WELCOME TO OUR NECK OF THE WOODS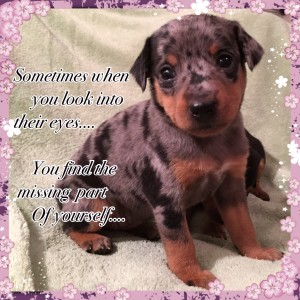 Here at Hilltop Harlequins my goal is to produce top quality family oriented Harlequin and Miniature Pinschers. The puppies here are "Home Grown".  They are born and raised in my home under normal family conditions, not in a kennel or wire cage. They are imprinted at birth and handled daily. They come to you happy, healthy and pre-spoiled.  Here our animals are considered part of the family and  not "breeding stock".   We breed for quality not quantity.  All of our animals are loved the same and treated with dignity and respect.  They all have a name and their own personable space.   They receive ultimate care and love. They are exposed to everything including our daily activities, other animals and children. When they are ready to venture to their new family there is little to no transfer shock. They welcome themselves with whole heart and ready to play and begin their new adventure with you!!    
   We welcome anyone that would like to come see our animals first hand by appointment only. We welcome phone calls, phone text and or emails anytime to help you with any questions you may have for us.  Text messages usually get quicker responses as our phones are always with us.
My Harlequin and Miniature Pinscher Bloodlines come directly from the foundation stock at Run-N-Ridge Harlequins. The breeder at Run-N-Ridge, Nancy Anderson, started to revive the pattern and succeeded in 2006 of registering the first PUREBRED Merle Miniature Pinscher & Harlequin Pinscher known as "Run-N-Ridges Ole Time Revival N Mayhem" which had already achieved his Grand Championship status earlier in the year as a Merle Miniature Pinscher establishing his Superior Quality for being an excellent representative of the breed in which to continue the production of the Harlequin Pinscher we know today. 
For more information about the Harlequin Pinscher visit the website below:
 Run-N-Ridge Harlequins
 Foundation Breeder of the new Harlequin Pinscher
 Nancy Anderson
 www.runningridge.com
 Please feel free to look around on our website. You can click on the dashboard above to go to the area that you are looking for. We update info all the time as we find out and learn more. Our website is kept very current to help you know what is going on with us.
Thanks for dropping by,