My name is Janice Burns.  I am the proud breeder here at Hilltop Acres, offering top quality puppies from top quality and genetically tested lineages.  All of my dogs are AKC (Min Pins) or AHMPC (Harlequins and Min Pins out of Harlequin litters) registered, healthy, non aggressive and exhibit great personalities.  The puppies I produce are bold, family oriented, playful, self confident, intelligent, eager to please, good with children, adaptable to any environment and will make great companion dogs for their owners.  They are superior in health with parents being veterinary health certified, DNA certified and tested for genetic issues known to the breed.  This includes (but not limited to) MPS VI, PLL ,Cystinuria, Hyperuricosuria, IVDD, DM, DC, BHFD and CDA.   I strive to be consistent with the quality of my pups, by selective breeding for optimum health, coat coloring/texture, temperament and structure.
  I am USDA licensed # 71-A-1385 as a GROUP not a kennel.  I am also Veterinarian Approved.
  I live on a small farm in the southeast corner of Arkansas. I have been a Miniature Pinscher breeder for over 25 years.  Up until 2013, I breed the traditional Miniature Pinscher on a small scale. The Min Pin breed has always been intrinsic to me. I love the outdoors and all the adventure that goes along with it.  A Min Pin has always been seen by my side.  In the winter of 2012, I had a great lose of my male Min Pin partner of 10 years.  Saddened and feeling the emptiness in my heart, I began the journey to find another little partner. Thinking he never could be replaced and hours on the internet looking at puppies, I came across a darling little male black and tan merle Harlequin Pinscher that caught my eye.  I was fortunate to acquire this little merle male in the summer of 2013. He quickly stole my heart and so began my quest to help establish the Harlequin Pinscher breed.  Since then I have acquired my little pack of dogs.  I have done a lot of genetic and background research on the Harlequin and Miniature Pinscher breed.  I despise unethical breeding and anyone who condones it. I will quickly dismiss all social interest with them. This breed truly deserves the best and the best it will be through ethical breeding, education and exposure. I will do my best to help all who truly wants to learn about the breed and do right by it. But I will also be quick to break ties with the ones that cross the unethical line.
I am a stay-at-home mom.  My dogs are a part of the family and treated as such.  They all have names, their own personal space and a huge fenced yard to call their own to run and play.  They reside in my home and not in outdoor kennels or buildings.   Being a stay-at-home mom allows me to do this.  Yes, continuous cleaning, picking up and maintaining of dogs and the house is a lot of work!  But I enjoy it and wouldn't have it any other way.  I do have spaces to place select breeding pairs or separate females in heat from the males if breeding is not desired.   All of my puppies are whelped inside my home in a separate room from the other dogs.  I have specially designed whelping boxes built just for them so they can be cleaned and disinfected daily.   This way I can keep an eye on the mom during whelping and assist if needed.
  In case I have more than one litter at a time, each litter has their own spacious area to give the mom her own space separated from the other mom and litter so she is content and can spend her time raising her puppies rather than trying to keep other dogs from bothering her and her pups.  Once the puppies are up and mobile they are allowed to make excursions outside and enjoy things like grass and sunshine.  While out on their excursions they get to interact with all sorts of fun things like other dogs/puppies, lots of toys, cats, cows and roll in the grass with me and my son.  Once the mom stops cleaning up after the pups SOMEBODY else  has to take over the clean-up duty.  Yep, you guessed it, it's ME!  Pups are introduced to the potty pads at 3 weeks of age and a litter box at 4 weeks of age.  By 5 weeks they get the idea and are well on their way to potty training.  Mom begins to wean the pups and stops nursing by 6 weeks.  I pick up the pace here as well and make sure the pups are eating on their own.  By 8 weeks old the pups have grown a lot and ready for their new adventure to their new homes awaiting.    My puppies are precious and deserve only the best.  Serious Inquiries Only!!   I screen all potential puppy buyers through the puppy inquiry, internet research and several phone conversations.   I reserve the right to refuse a potential buyer if I feel the need.  They will stay here with me until the right family comes along.
  Our pups are raised using the Puppy Culture Program!!!  This in our opinion will help shape the pups for their future.  
The Harlequin Pinscher that started it all:
Rest in Peace my friend
2013-2016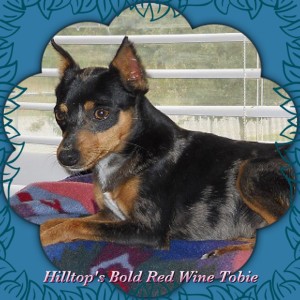 ADDENDUM:
This addendum is to clarify where I stand as a Harlequin Pinscher breeder and to counter what has been said and has been published about me on other websites and public platforms.  I am no longer affiliated with the Harlequin Pinscher Association and I was not banned for promoting known unacceptable genetic defective animals of double coat genes.  I have however produced a few multiple sired litters but NO ONE has ever had to chase me for parental proof of my pups and I have never had a failed parental test of any of my pups AFTER they were registered.  HPA had NO RULE or REGULATIONS that said it couldn't be done.  Many ethical breeders choose to produce multiple sired litters and there is no harm in it being done as long as its done responsibly.   I actually have proof that a Sire verification failed from the top breeder of HPA!  Did they get banned?  You guessed it, Nope!
To my best of knowledge and understanding of the situation, I was actually banned from HPA for standing up for what was right and not doing as the authoritative person of the HPA wanted me to.  So instead of telling the truth, they wanted me to look bad and hopefully fail as a Harlequin Pinscher breeder.   But that isn't going to happen anyway soon!
The issue that actually caused me to get banned was in fact due to the double coat gene but it wasn't for promoting the gene.    The genetic lab that the Harlequin Pinscher is tested through decided to add this new double coat gene test to their database.    According to the email that I got from the lab director, In order to get the most accurate results for any new test is to collect data from as many dogs as possible and from different breeds.  The more data they have in the system, the more accurate the results will eventually be.   The lab placed the new double coat gene test on the Harlequin Pinscher breed panel and all kinds of false results were being given at first.  Many in fact could be proven false because the parents of the supposedly positive offspring came back negative?  How is that possible?  It was a uproar for sure because the Miniature Pinscher and Harlequin Pinscher are single coated breeds!
As co-director of HPA, I personally notified the lab director through email about these results coming back and that we had a a few breeders that had questionable test results.  The lab director assured me that the results were more than likely not correct since it was a brand new test and agreed to retest the questionable dogs and offspring at no charge.   I notified HPA of the situation and all agreed that having the adult dogs and offspring in question retested was the best solution to be sure of the test results accuracy.  I worked personally with the breeders and the lab to get the test redone.   Things didn't simmer down to well while we waited for the new results to come back though.
I had also purchased a pup from one of the breeders that had the questionable test results.   Some of the ones that were being re-tested.  I actually had the breeder to send in my pups DNA before the pup came home and before this uproar was even started.  My pup came back NEGATIVE for the double coat gene!  I knew then that this test was way out of sorts and hopefully they get it straight soon.  But the authoritive person of HPA was not having none of it and wanted all dogs and pups with carrier and affective results banned from any Harlequin Pinscher program along with their breeders!  In which I did not agree was the right thing to do until we knew for sure of what the new test results showed.  In my opinion, you are innocent until proven guilty and the same should be with the dogs in question.
The authoritive person of HPA went silent but she approached me one last time after she saw that I allowed the breeder of my pup to post a sibling available pup on my personal facebook group.  The last text message to me was "so your promoting the double coat gene?".  I messaged her back, "you are innocent until proven guilty and at this time there is no concrete proof that their dogs have double coats".  "I have personally been to the breeders property and have seen all of their dogs.  None have any amount of double coats".   No more was said and I was immediately blocked, removed from all HPA facebook groups and banned from HPA.  I had absolutely no say in the matter.
I was first banned from HPA for "Rules violation and behavior unbecoming".  Really?, That's the best you could come up with?  What rules did I violate?  It was my private page and the posted pup was AKC registered and out of genetically tested and clear parentage according to their test results that I saw with my own eyes.    Unbecoming behavior?  So volunteering my time to help other fellow breeders work through a issue is unbecoming behavior?   It did upset me to be labeled this way but I figured that when all test results were in and at the end of the the day, it would all wash over.  But it didn't.  The authoritive person of HPA when on a facebook rampage whenever and wherever they could.  I'm not going into details here because it really isn't important and not my point of this addendum.  After all the new results came back and as we speculated.  ALL dogs and offspring came back clear of the double coat gene.  HPA was notified by a few other breeder since I had no way of communicating at this time.  Nothing changed and I continued to be blocked and banned  so I decided to go my separate ways and continued my journey as a Harlequin Pinscher breeder and vowed to do right by the breed as best as I could and treat others as I would have them to treat me.
The facebook rage continued and a few months later my reason for being banned was changed to "Promoting known unacceptable genetic defective animals of double coat genes".   Really?, I don't see how you can promote something if you don't have it to promote.  Every dog in my my breeding program was/is negative and the dogs that were in question came back negative as well.  In which I do have all proof of the results in my possession today!  A few of the other Harlequin breeders tried their best to get the authoritive person to realize the mistake and fix it but they refused to apologize and admit that they were wrong for blocking and banning me.
At first I was very upset with the way I was treated and what was being said about me.  But today, its all in the past and I know that I have the Harlequin Pinschers best interest at heart and I will continue with the breed I love.  I now have a huge following on social media and have established a new Harlequin Pinscher registry with the help of a few other breeders that also left HPA because they disagreed with what the authoritive person of HPA done.  We have since created a new club and a new registry known as the American Harlequin Miniature Pinscher Club (AHMPC).   The new registry uphold most of the same rules and regulations as the HPA with mandatory genetic testing, DNA profiles and parental verifications.  This is to insure that the quality and purity of the breed remains unquestioned.   The differnence is that we work together and stand together so that in the end, the Harlequin Pinscher will be the ultimate winner.